360 Private Travel
How Knack helped a concierge travel service
grow beyond their office.
The Name of the Game is Flexibility
When James Turner explained how his company managed their data before Knack, he let out a sigh.
"We had a system that wasn't web based. You'd dial up to a remote server to connect to it…" He trailed off, then ended succinctly: "It just wasn't user-friendly."
James is the Chairman of 360 Private Travel, a luxury travel concierge service based in Sevenoaks, England.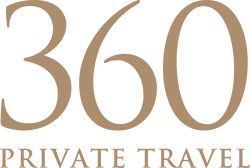 A good portion of his sales team is mobile–they can work with clients in the local coffee shop or in a completely different country.
"You couldn't take the reservation system with you before," James explained. "There just was no flexibility. I needed something that could be flexible."
Fortunately James found Knack and built a database that proved to be that flexible solution he needed. It has become a backbone of the business that helps organize bookings, track travel documents, and process payments. James' distributed team can now work more flexibly and efficiently than ever before.
Getting Started
When he found Knack, James had been looking for a new solution for over six months. Other solutions either weren't flexible enough or could not meet his robust feature requirements.
Along with tracking reservation data, James needed to generate documents, accept payments, and give his suppliers access to specific areas of the app. Out-of-the-box solutions could tick off one or two of these requirements, but he hadn't found anything that allowed him to achieve all that he was looking to do.
"I've had several different systems that cost a fortune and ended up not really user-friendly or customizable by the people using them," he explained. "I was looking for a new approach to fit the business requirements that we have, but there wasn't really anything that existed that could do that."
A team meeting in Marrakech, one of the locations James needed easy access to his data.
James was able to use his Knack trial to test out the product's features and flexibility. "It was an easy introduction into it, and then I was able to see what the possibilities were and where it could go. From the start, it seemed to be a low barrier."
James is quick to point out that he has no programming skills, but was still able to put together the framework of his app during his trial with the "expert help" from the Knack team, and was then on his way.
We have 30 people on it at any one time… and they can all access it seamlessly to get the exact data they need.
Start to Finish
This framework eventually formed the client database that now runs James' entire travel booking process.
Travel concierge services are in-depth and multifaceted. A client approaches the team and expresses interest in a certain type of holiday or flight. James's reservation agent then turns to past examples: are there similar vacations, holiday packages, or flights they've done before that match these criteria? If so, those details can be pulled up in Knack to get a head start on this new package.
Managing booking inquiries in the 360 Knack app.
The agent then inputs all relevant details into Knack, like the flight, hotel, and any other reservations the trip may include. Finally, they generate documentation to send to the client as a quote.
From start to finish, all client and supplier details are stored in the same place. This allows the team to easily view all of this information at once, from anywhere they have an internet connection. Changes are updated immediately, keeping everyone in the loop at any given time.
James sees this as a key benefit: "It's very quick to get good data out of our Knack application. We have 30 people on it at any one time, some in Hong Kong, most in the UK, some in the States — and they can all access it seamlessly to get the exact data they need."
We find the workflow side of Knack so valuable…the app alerts the head office and keep us aware when everything happens.
Workflow Ties Everything Together
Knack's help in establishing a clear workflow has also been immensely valuable to James and his colleagues.
Through scheduled tasks and automated emails, team communication and follow-through is increasingly streamlined. As a client's booking progresses, alerts are triggered to the appropriate teams and individuals.
"We find the workflow side of Knack so valuable," James explains. "The tasks, reminders, and automated emails alert the head office and keep us aware when everything happens"
Since travel itineraries revolve around specific deadlines, tasks are especially useful in setting reminders. If a document has to be secured 60 days before departure, for example, the reservation agent will get a reminder to ensure that's completed in time.
Suppliers can update the database accommodations data.
James has also included his company's suppliers into his workflows. Using Knack user roles, suppliers can login to update their own details and view their relevant information. This helps to keep the database up-to-date and means one less item for James's own team to have to maintain.
To Infinity and Beyond
Though he's not a developer, James has still managed to vastly expand his app's purview with custom integrations. By turning to the Knack Builder Network, James has been able to connect with a developer to help achieve his project ideas. The Builder Network, he said, "made so much more possible with Knack."
All the details for a booking in one place, complete with 3rd-party integrations.
Through that partnership, he's integrated his app with WebMerge via Zapier in order to generate PDFs that are then sent to his clients as quotes, invoices, and itineraries.
He and his builder have also added in API integrations to connect the app with a company called Travelport, which handles the ticketing for 360 Private Travel.
Other integrations allow him to link his clients' payments and even pays his own company's bills through Knack. This option, he says, was another advantage of Knack that he hadn't found possible in any alternative database solutions. Now when 360 Private Travel has invoices of its own to pay, James is able to pull up Knack, click a button, and take care of those in the same place he runs much of the rest of his business.
The benefits have been so huge that I'm struggling to come up with a concise list.
Too many benefits to list
When first asked how Knack has helped his business, James hesitated. "The benefits have been so huge that I'm struggling to come up with a concise list." From enabling remote access around the globe to integrating with multiple payment processors, to simply allowing his team to consolidate all of their data in one place, Knack has fully streamlined 360 Private Travel operations.
James Turner, 360 Private Travel CEO, on location.
An overarching takeaway has been the ways in which the database now mirrors how the company itself operates. "We deal very closely with clients," James explained. "It's either face-to-face or on the phone, not electronic. And we get to know them." Having a fluid and customized app that allows agents to see all aspects of a client's travel has revolutionized those operations.
Whether the agent is working in a far-off nation or a local cafe, over a coffee or over Skype, the 360 Private Travel client database is fully comprehensive and accessible. Finally, James said, their system is "as flexible as we are."
Get Started in 30 seconds. No credit card required.
Create your free account and join thousands of professionals running
their businesses with Knack.
Organization
Highlights
The perfect combination of features and flexibility
Remote access to empower a mobile workforce
Workflow keeps everyone alerted to important updates